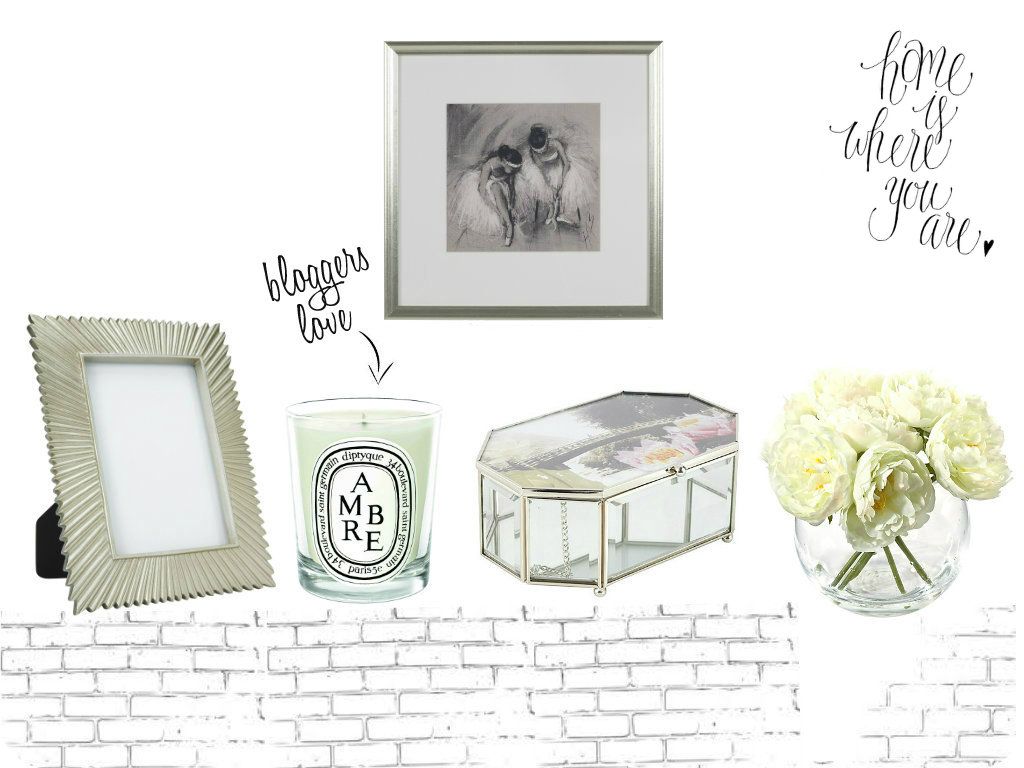 Ballerina framed print
Gold star-burst frame
/
Diptyque candle
/
Trinket box
/
Peony Bowl
I have decided to do a weekly post, called Home Sweet Home, featuring my favourite home accessories and interiors. The above, would look perfect on a dresser, or bedside table.
Firstly, I have chosen a Gold Star-burst frame, that compliments the minimal colour palette above, and is a lovely buy from Laura Ashley.
The Diptyque candle, is a popular purchase for bloggers. I have seen numerous beauty blogs, that feature this candle in their photographs. There is a chic and Parisian feel to the design, and I would personally love to have a little collection of these, to light, in the evenings. However, these sought after candles do not come cheap. I have noticed, that these 'designer candles', although very pretty, do cost a lot more than the average candle.
The trinket box, above, is from the Butterfly Home range by Matthew Williamson. I have always wanted a glass jewellery box, so this really is a gem in my eyes. It's ideal to keep your jewellery, and little treasured possessions, in. The Peony Bowl, would lighten up a room, with it's wonderful cream peonies display.
The Ballerina framed print is a soft and dreamy image of two ballerinas. I recently watched Black Swan for the very first time, and was very taken by the film, so was looking for a ballet-themed item. All the above items, have a feminine and light touch, that would look so precious in the home.
I hope you enjoyed. What is your favourite item in your home? I've been phone-less for a week, so I've not been able to take photographs :( I have lots of lifestyle posts planned for when I do have my phone back though!
xxxx