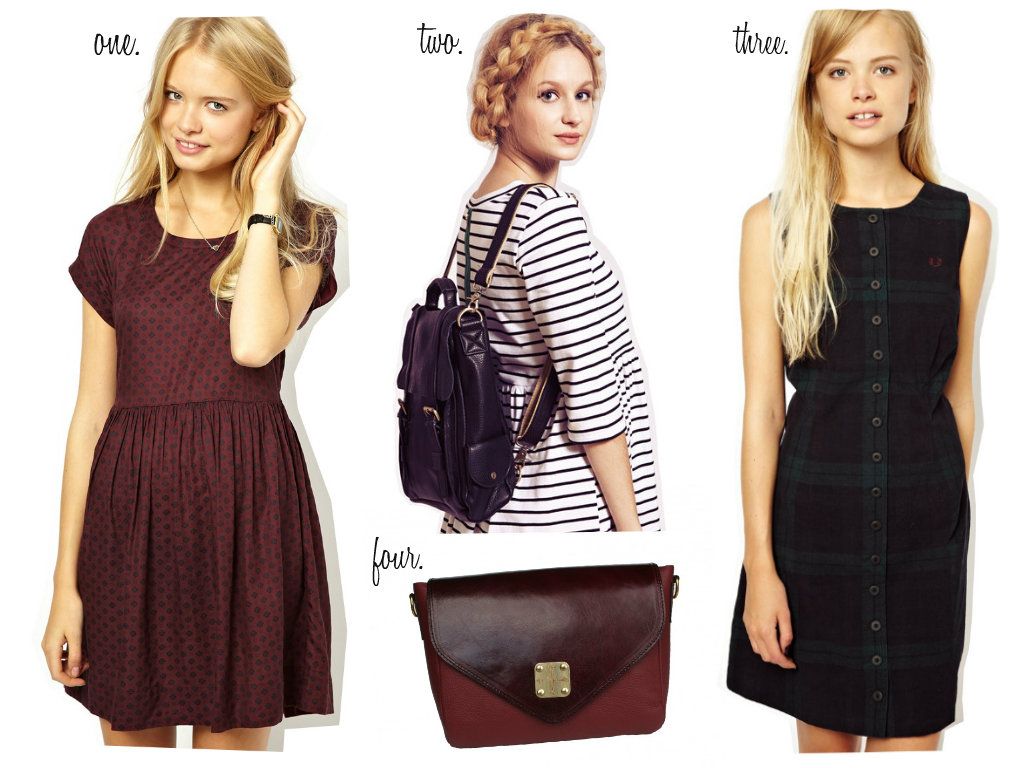 1.
Jack Wills dress
2.
Black leather backpack
3.
Fred Perry Tartan Cord Pinafore Dress
I've got my eyes on the sales this year. I always love reading posts featuring what bargains can be had. This post, is a wishlist of the things I hope will be in the sales! I know some sales have started early this year, however, none of the above have as yet been reduced.
A bag is for life, not just for
Christmas
, this is a great motto for this time of year if you're looking to splash out on a new bag. There are many that I would love to own, such as a Whistles clutch, and the
Autograph Leather Hobo bag
from Marks & Spencers. I have chosen the darling,
Dahlia
soft leather backpack
. It would be so useful for work, and for when I'm out walking the dogs, it's simply wonderful. The next, I found when reading
What Olivia Did
.
Baia
have teamed up with the lovely
Olivia
, to design this limited edition,
understated bag
. Olivia is effortlessly
chic
, so this collaboration in my eyes, is genius! This would be more of an investment piece, and a gorgeous one at that. So, fingers crossed these two gems will be on offer in the new year.
The two dresses above, can be found on Asos. The Fred Perry cord dress is so perfect, plus I need more tartan in my life! I love the buttons down the front and the fabric. The other dress featured, is by Jack Wills. My sister has mentioned that Jack Wills do good reductions, so I'm hoping this will be available as well.
The shops are too busy for me come January, and I'm not patient enough to scroll through the endless pages online. However, if I get just one thing from the above, I would call that a big success!
If you are looking for tips when hitting the sales,
Naked Fashions
have done a great post,
here
.
Thank you for reading. Have you got your eye on anything, that you hope will be in the sales?