Happy New Year! I was very excited to do this post, and share one of my favourite bloggers with you. Laila from Tape Parade, kindly answered the many questions I emailed her for this post! I adore her blog, style and reading all about her adventures - abroad and in London. So, here is my interview with the lovely Laila ...
How would you describe your style?
Throughout school I was known for my really weird and off-the-wall style but I went to a very arty and creative university and although everybody dressed differently I blended in a lot more there then I ever have anywhere else.
I hate sporty clothes as normal wear (save it for the gym) and I don't own any hoodies, jeans or trousers. I quite often make my own clothes from fabrics I like.
My
non-uni friends often describe my style as "quirky", I would say maybe a bit old-fashioned.
I avoid nearly all high street shops for a variety of reasons but I LOVE charity shops and there are a few London-based designers I like such as Lazy Oaf and Miss Patina. In terms of higher end fashion I like Luella (RIP), Mondo,
Meadham Kirchhoff, Romance Was Born, Sretsis, Valentino, Orla Kiely and I loved the Amy Winehouse Fred Perry collections (that pinafore in your last wishlist sales items post is stunning by the way!).
Style icon?
I don't really have a style icon; I really like clothes but have no interest in putting them together.
I'm not very aware of style, I can't say I ever really notice what people are wearing and I don't read magazines or anything so I'm quite ignorant of fashion in that way - I only really like the very top end of fashion which for me is more akin to art than anything else, and even then I don't really follow new collections or what comes out each season.
I've always wanted to look different to everybody else and my idea of hell would be looking on trend.
I never worry about looking inappropriate and I don't plan outfits,
I just throw on items in the morning and hope for the best!
I wear a similar kind of thing for all situations regardless of whether it's a smart function, gig, job interview, day off, night out etc.
I can't think of any well-dressed celebrities I like but I would say Zandra Rhodes and Camila Batmanghelidjh are probably the only people I can think of who I would describe as interesting, unconventional dressers.
Tell us more about your music ...
I studied clarinet, bassoon and piano up to Grade 8 and then focused on bassoon through uni, although now I don't really have a main focus. I taught myself guitar, ukulele and accordion through sixth form and uni and I've picked up bits of other instruments along the way. My masters and degree focused on contemporary music although I studied musical theatre outside of school and I've always had a strong interest in popular music.
Probably my biggest achievement is being asked to give an academic lecture at Senate House (on Vladimir Martynov and his links to post-modernism). I was the youngest speaker they've had to date and it's something I'm still proud of. I also had a piece I'd arranged premiered at Disneyland Paris when I was in sixth form. That was pretty cool, mainly because I got to Disneyland with all my school friends!
At the moment I'm working on two major projects, WOLF PACK and my own music. WOLF PACK is a music/theatre group I set up two years ago. It's been really well received and effectively gone from a side hobby project into a creative business. I kind of direct and run the whole thing and come up with ideas. I've been offered a slot at a well-known creative office for 2014 and I'm learning a huge amount about the entertainment industry and business practises from some fantastic people, it is an amazing opportunity. I'm also trying to focus on performing my own songs and gigging my own music more - up until this point I've only promoted Kids With Crayons (my band with James) for fun and now I'm flying solo so it's a weird change for me!
I adore your style of photography ...
Thank you, I'm not sure I'm that great at photography but I try! I use a Canon 550D or a Canon 5D and I switch between a few different lenses. The two lenses I use most often are a 50mm fixed f1.2 or a 35mm-80mm f3.2-12, and I quite like the 35mm f1.4 for close-ups although carrying around multiple lenses is a big faff so I rarely bother with that!
I'm lucky to have really good kit - my Dad is a pretty keen amateur photographer and whenever he upgrades I get his old kit.
I try to edit my photos in a naturalistic but attractive way as I dislike heavily edited fashion photography, I want my photos to be relatable and not look like something out of a magazine. I also try to limit my posts to about 10 photos otherwise I feel like I'm just scrolling through loads of photos!
I chose a blog layout where my photos could be the focus and moved all the side bar malarkey onto another page. I was fed up with all my photos being shrunk down by Wordpress in order to fit them into the side. I do sometimes worry that it seems unfriendly or that new readers are going to arrive and be like "who the hell is this?" with my absence of a side welcome message though!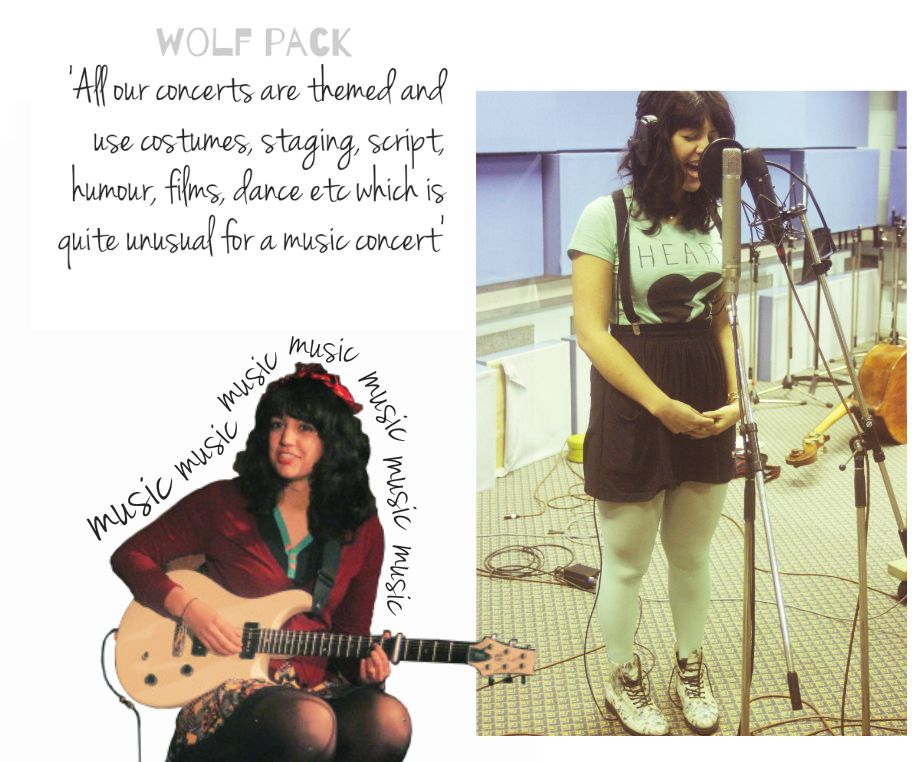 What have you got planned for 2014 and beyond, I would love to know - as you are a star in the making...
Ah that's so sweet of you! Thank you! I'm going to try to focus on less projects; my normal approach is just to take on any work that sounds interesting but this has been SO tiring in the past that I'm going to be more choosy next year (although I fully recommend that approach to any creative people starting out). My goals next year are to go to New York, Cambodia and Brazil; make an EP and do 4 WOLF PACK concerts. I'd like to maybe tweak my blog a little bit as well, I'm not sure what kind of posts people might like to read. Any ideas?! Maybe I'll start vlogging!
The only TV series I've ever been obsessed with is Lost and this Christmas I've been really tempted to watch it all again! I LOVED Charlie and Desmond SO much!
Thank you Laila for taking the time to answer my questions, and what fantastic answers you gave!
Thank you for reading. Laila's links are below, do check them out! (she has some exciting posts planned).